Introduction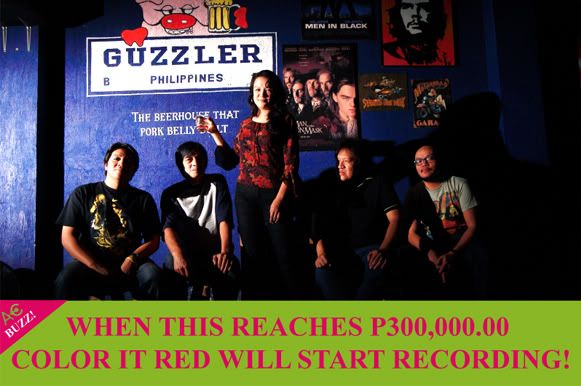 Project Extended to October 17, 2012!
Preview live studio recordings of "Buhay" and "Hindi Magtatagal" Color It Red's latest tracks for their upcoming 5th album.
The alternative pop/rock band Color It Red was formed in 1989 after a teen film inspired three schoolmates, mainly vocalist Cooky Chua, then keyboardist Maricar Florendo and rhythm guitarist Barbi Cristi-Paraguya.
Taking their name from a crossword puzzle, the band became a fixture at colleges and universities, performing in different events and finally at the RJ Pinoy Woodstock concert after winning in a talent contest.
In the early '90s, the group's numerous appearances at the celebrated Club Dredd carved a significant following. Color It Red's debut album, Hand Painted Sky, was released in 1994 by Alpha Records where it went platinum, and the band was voted Best New Artist at the Awit Awards soon after.
Color It Red has established themselves as one of the most popular and critically praised alternative acts. One of the band's hit songs is "Paglisan", a song that tells of the sentiments of departing from one's love, has become part of Philippine pop culture as one of the better OPM ballads. Currently, the band consists of Cooky Chua, Barbi Cristi-Paraguya, Bopip Paraguya, Ariel Policarpio, Jayvee Torres and Kwanchi Vergara, all of which have been in the industry for at least close to 3 decades. Nowadays, though each having day jobs already, Color It Red occasionally gets invited for corporate events and launches, continuing to play the music we all have grown up with.
Project Description
Updates 041514
Recording is done and currently printing CD!
All those who wish to pledge and pay from 041514, your name will not be included anymore in liner notes of CIR's new album. For more info email: info@artisteconnect.com
How much do we need to raise?
| | | |
| --- | --- | --- |
| Details | Cost Estimate | Total |
| 10 Songs | (per song- studio time, album producer's fees, recording, mixing and mastering engineer's fees) | P150,000.00 |
| Allowance for Recording | P5,000.00 (per song) | P50,000.00 |
| CD Pressing and Sleeve Printing | (P150.00 per piece) | P150,000.00 |
| Music Videos | P100,000 to P150,000.00 (per video) | P300,000.00 |
| Additional Marketing Budget | Events- Launching, radio tours etc | P150,000.00 |
| Total | | P500,000.00 |
We also allow corporate sponsorships
Minor Sp
onsor (
Sponsorship Mileage)

Company logo inside the album, Thank You credits
2 banner provision during any Color It Red events
Company plugs during events

Major Sponsor (Sponsorship Mileage)
Company logo inside the album, Thank You credits
Company logo in the postcard and t-shirt

4 banner provision during any Color It Red events
Short AVP during events

₱264,000.00
Raised of ₱500,000.00 Goal
This project is raising ( ₱500,000.00 ) until Monday, June 30, 2014